05/23/2022
World's Smallest Pacemaker
DRH HEALTH
OFFERS
THE
WORL
D'S SMALLEST PACEMAKER
S
Nearly half of all pacemaker patients may be candidates for leadless device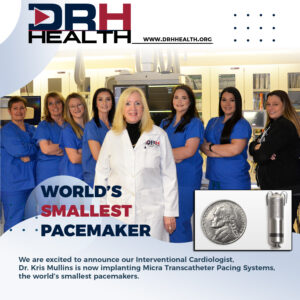 DRH Health offers the world's smallest pacemakers, the Micra™ VR and Micra™ AV Transcatheter Pacing Systems (TPS), to patients in southwest Oklahoma.
Micra TPS is a leadless pacemaker option for patients who only require pacing in the right ventricle. The size of a large vitamin, Micra, is less than one-tenth the size of traditional pacemakers yet delivers advanced pacing technology to patients via a minimally invasive approach. The device is attached to the heart with small tines. Then, electrical impulses pace the heart through an electrode at the end of the device.
"The implantation does not require surgery as we go through the femoral vein," said Dr. Kris Mullins, Interventional Cardiologist. "It is a shorter procedure with no incisions or cables, and the patients usually go home the same day. The DRH Health Cath Lab team and I are very excited to offer this new technology to our patients and their families here in southwest Oklahoma."
Approved by the FDA in 2016, Micra VR was the first leadless pacing system available globally. Studies have shown a significant reduction in complications. The Micra AV, approved by the FDA in 2020, expanded leadless pacing to more patients. Micra TPS is the only approved leadless pacemaker portfolio available throughout the world.
Back to News