11/14/2022
Oklahoma Hospital Association Presents Awards to Outstanding Leaders; Hosts Annual Meeting
Health care professionals from throughout the state attended the Oklahoma Hospital Association's (OHA's) 103rd annual convention, Connect 22, Nov. 9-11, at the Oklahoma City Convention Center in Oklahoma City. In addition to the educational sessions and an exhibit hall, other convention highlights included the presentation of several awards to Oklahoma's outstanding health care leaders.
During the convention, Jay R. Johnson, FACHE, president and chief executive officer, DRH Health, Duncan, received the association's highest award, the W. Cleveland Rodgers Distinguished Service Award, in recognition of his outstanding service to the health care industry.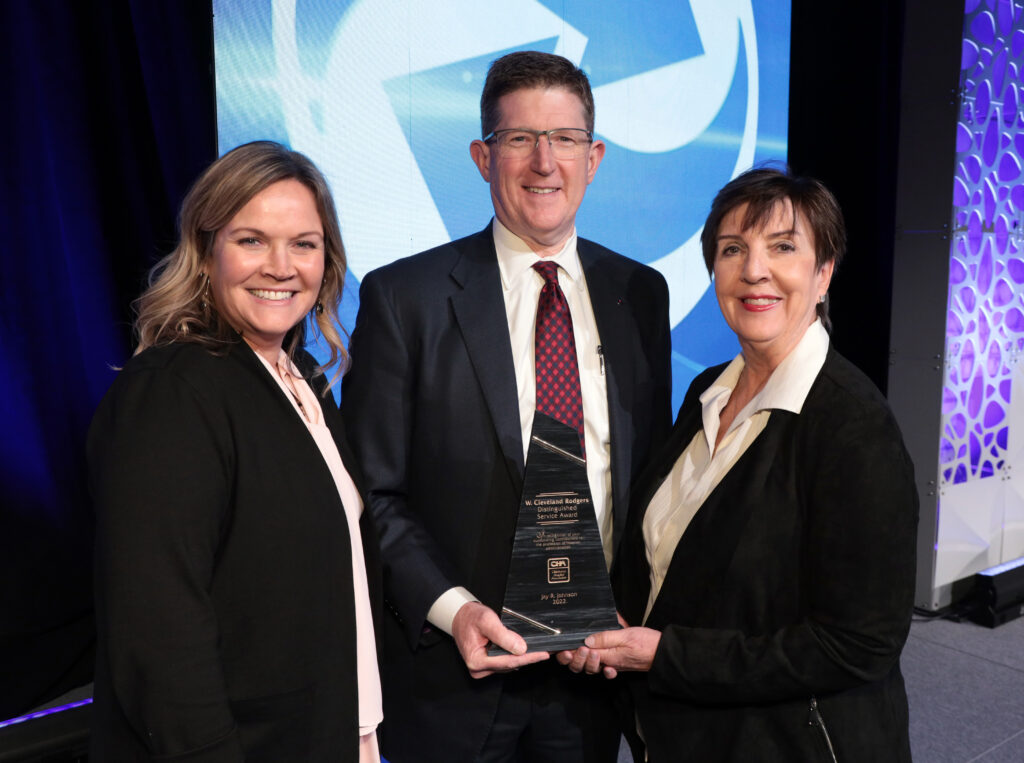 Johnson received his Bachelor of Business Administration degree in 1990 from Cameron University in Lawton and his Master of Health Administration degree in 1994 from Virginia Commonwealth University in Richmond, Va. He began his career at Parkland Health and Hospital System in Dallas followed by nine years at Stillwater Medical Center and five years at Mercy Hospital Ardmore.
In August 2010, Jay began serving as president and CEO of Duncan Regional Hospital (DRH). Under his leadership, DRH Health has grown from $96 million in net revenue in 2010 to $169 million in 2021 while also maintaining high levels of patient satisfaction. The organization has expanded by adding Jefferson County Hospital along with clinics in 10 communities in southwest Oklahoma. New services include full-time programs in cardiology, behavioral health, and pulmonology/critical care.
Johnson currently serves as the past board chair of the Oklahoma Hospital Association. He served as board chair mid-2019 through 2021. He has been a member of the board since 2013 and he has served on the OHA Council on Policy and Legislation. Johnson received the OHA Advocacy in Action award in 2013 and 2017.
Johnson currently serves as board chair for the Cancer Centers of Southwest Oklahoma. He is the past chair for Vizient's Arkansas/Oklahoma region and a past delegate of Region Seven for the American Hospital Association's Regional Policy Board. In 2019, he was named the Duncan Man of the Year by the Duncan Chamber of Commerce, and in 2015 he was named Outstanding Alumni for Cameron University. He is a graduate of Leadership Oklahoma class 29, Leadership Duncan class 16, and Leadership Stillwater class 11. He is the past chair of the Duncan Public Schools Foundation and the past chair of the Duncan Area Economic Development Foundation. He is a fellow of the American College of Healthcare Executives.
The Oklahoma Hospital Association's Advocacy in Action Award was presented to Jimmy Leopard, FACHE. Leopard is the CEO of Wagoner Health/Wagoner Community Hospital. He has served that facility and community for the past 15 years and has more than 30 years of experience in hospital administration.
Leopard began his health care career as a clinician in respiratory care and progressed to successively higher levels of management and administration through the years. His first corporate management role was as chief operating officer at Woodland Heights Medical Center in Lufkin, Texas. His first CEO position was with Medical Park Hospital in Hope, Ark. He has held only two CEO roles in his entire career (Hope, Ark., and Wagoner).
Since coming to Oklahoma in 2007, Leopard has been very active in the Oklahoma Hospital Association, having served as northeast region chair, 10 years as an OHA board member, member of the OHA executive committee and OHA board chair in 2016-2017. He has been very active in the advocacy activities of the association, working to advance important initiatives to strengthen the provision of health care in Oklahoma. He and his hospital have been recognized by the OHA with the OHA-PAC Award of Excellence in 2015, 2017 and 2020.  Leopard was honored as the recipient of the W. Cleveland Rodgers Distinguished Service Award in 2018. He has also served on numerous OHA councils and committees.
Leopard served as president of Sooner Healthcare Executives from 2014-2015. He was recognized by his community as Citizen of the Year in 2017.
He completed his undergraduate work at the University of Arkansas at Little Rock and holds a Master of Science in Health Administration from California College for Health Sciences – San Diego. He also holds undergraduate degrees in respiratory care and health services management.  He is a fellow with the American College of Healthcare Executives.
Richard K. Snyder received the OHA's Award of Merit. Snyder was vice president, finance and information services with the Oklahoma Hospital Association for more than 14 years until his recent retirement. His responsibilities included monitoring regulatory issues related to Medicare, Medicaid, and managed care, determining their impact on Oklahoma hospitals, and informing the hospitals in the state about their implications. He was deeply involved in Oklahoma's Medicaid Supplemental Hospital Offset Payment Program (SHOPP), which brought a net benefit of more than $2.3 billion to Oklahoma hospitals in its first 10 years.
Snyder has more than 40 years of experience in health care. Prior to joining OHA in 2007, he worked as chief financial officer of Via Christi Oklahoma Regional Medical Center in Ponca City; and before that, as CFO of Newton Medical Center in Newton, Kan.
Snyder is a fellow in the Healthcare Financial Management Association and was recipient of HFMA's Founders Medal of Honor. He held offices including president in the Kansas HFMA chapter. He was the 2019 national chair for the Allied Hospital Associations' Accounting & Financial Specialists. He is a graduate of Kansas State University and earned a master's degree from Oklahoma State University.
Lauryn McAdam received the David J. Falcone Student Achievement Award, presented each year to a health administration student for outstanding achievement. The award was renamed in 1996 in honor of the late Dr. Falcone, who served from 1992-1996 as professor and chair of the Department of Health Administration and Policy for the University of Oklahoma College of Public Health.
McAdam is a second year Master of Health Administration student in the University of Oklahoma Health Administration and Policy program and will graduate in May 2023. She's the special events officer of the OU Healthcare Executives Student Association. She also has a full-time job as an oncology data specialist at Stephenson Cancer Center. She was chosen by her professors for the Falcone award due to her high engagement in the program while balancing a full-time job, as well as her potential as a successful health care administrator.
She also holds a bachelor's degree in marketing and management from Oklahoma State University, where she was a Spears School of Business Peer Mentor and Orange Book Marketing Outstanding Senior.
—–
The Oklahoma Hospital Association is the voice of hospitals in Oklahoma. Established in 1919, the OHA represents more than 130 hospitals and health systems across the state. OHA's primary objective is to promote the health and welfare of all Oklahomans by leading and assisting its member organizations in providing high quality, safe and valued health care services to their communities.
Back to News