12/12/2018
Spirit Awards Presented to Oklahoma Hospital Employees
Forty-three hospital team members statewide received an Oklahoma Hospital Association (OHA) Spirit of Passion and Dedication Award during the 2018 OHA Annual Convention, Dec. 6. The 43 front-line, behind-the-scenes and administrative employees received the award because they are committed to the true mission and purpose of their hospital, provide compassionate care, and often go above and beyond with strong dedication and passion.
Award recipients were chosen by their hospitals for exemplifying the Spirit of Passion and Dedication because they: have a passion for helping others; are unwavering in their dedication and resolve to provide excellent service; go the extra mile to provide compassionate care to patients; remain steadfast in their efforts, even when faced with unexpected or unsettling challenges; or exhibit consistent dedication to the true mission of the organization.
"We are pleased to honor these special hospital employees who have dedicated time, talent or expertise to improve their organizations and their communities," said Patti Davis, president, Oklahoma Hospital Association. "These are the type of team members who continue to provide the very best care even when faced with adversity."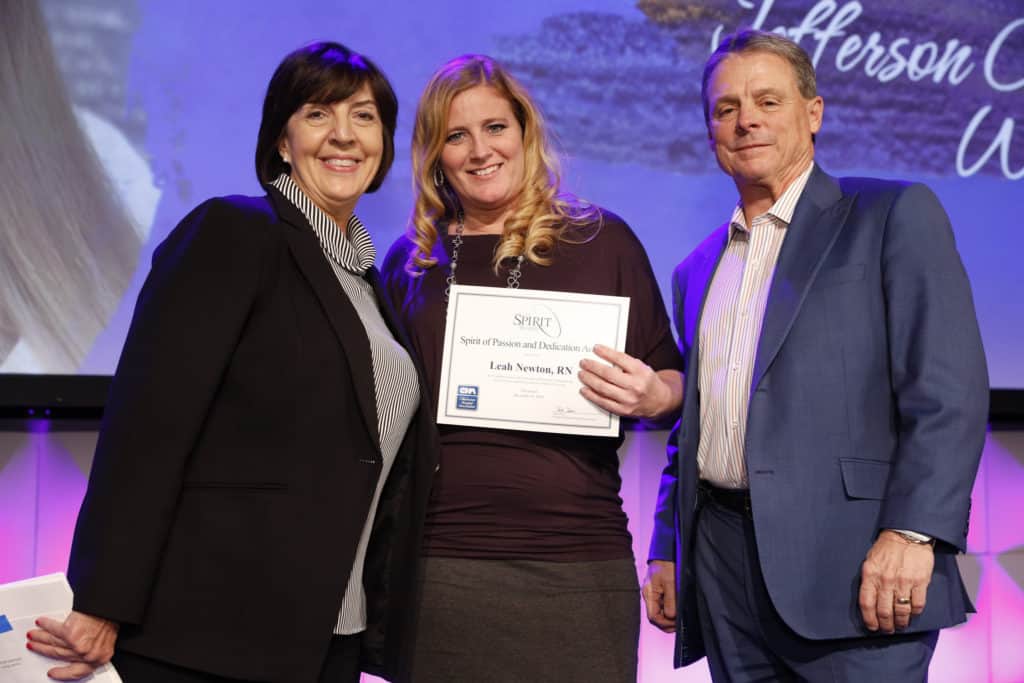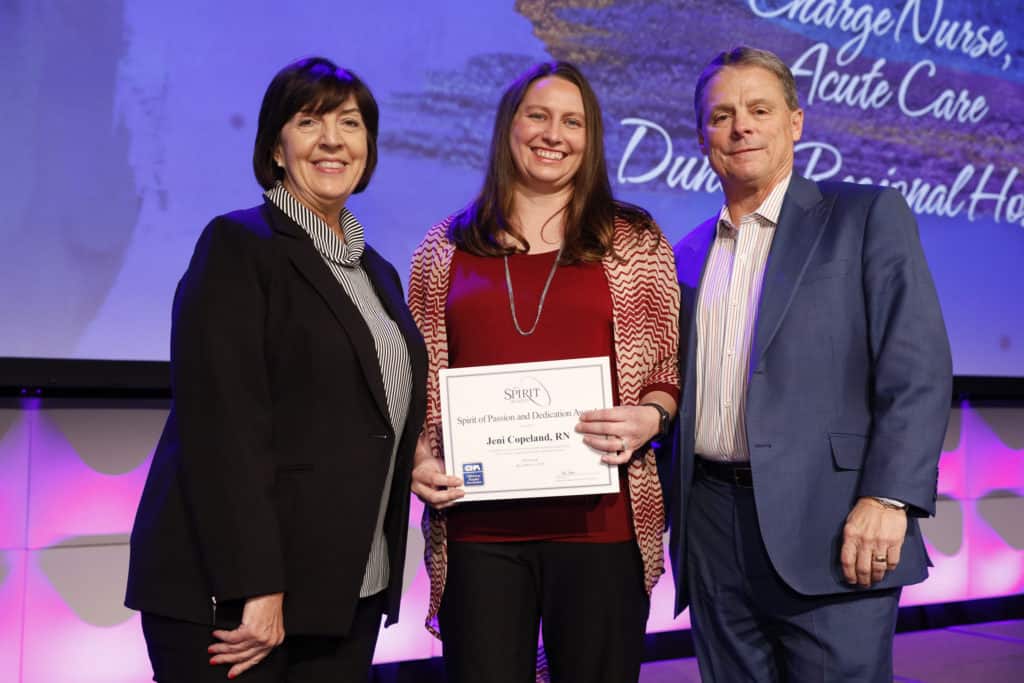 Award winners are:
AllianceHealth Durant, Sally Crites, CRT, Director of Cardiopulmonary Services
AllianceHealth Madill, Chelsey Roberts, PT, DPT, Director of Physical Therapy
AllianceHealth Ponca City, Jessi Cavanaugh, RN, House Supervisor, Nursing Administration
Arbuckle Memorial Hospital, Sulphur, Terra Sanford, RN, Clinical Informatics RN
Blackwell Regional Hospital, Kassa Botts, RN, Outpatient Coordinator, Nursing
Comanche County Memorial Hospital, Lawton, Dee Smith, Customer Service Manager
Creek Nation Community Hospital, Okemah, Darla Cheatwood, RN, Director of Case Management
Duncan Regional Hospital, Jeni Copeland, RN, Charge Nurse, Acute Care
Grady Memorial Hospital, Chickasha, Mike Peek, RN, Emergency Department RN/House Supervisor
Hillcrest Hospital Cushing, Renee Russell, Manager of Risk Management, Quality, Safety and
Compliance
Hillcrest Hospital South, Tulsa, Jonathan Jerzyk, Certified Technical Assistant
INTEGRIS Canadian Valley Hospital, Yukon, Jill Hughes, MS, RNC-OB, Administrative Director,
Women's Center and Bennett Fertility Institute
INTEGRIS Deaconess, Oklahoma City, Kelli Peters, RN, Emergency Department Supervisor/Safety
Coach
INTEGRIS Grove Hospital, Logan Thronebury, RN, BSN, Clinical Consultant/Quality Assurance
INTEGRIS Health Edmond, Larry Coleman, MRI Tech
INTEGRIS Miami Hospital, Crystal Wynn, BSN, RN, Quality & Accreditation
INTEGRIS Southwest Medical Center, Oklahoma City, Emily Coppock, RN, BSN, Director of
Quality & Special Projects
Jane Phillips Medical Center, Bartlesville, Aubrey Cramer, PharmD, Pharmacist
Jane Phillips Nowata Health Center, Michelle Seger, RN, Registered Nurse
Jefferson County Hospital, Waurika, Leah Newton, RN, Staff RN
Lakeside Women's Hospital, Oklahoma City, Donna Plewes, RN, BS, MBA, CPHRM, Director of
Quality and Special Projects
Lawton Indian Hospital, James Foster, PharmD, BCPS, Clinical Pharmacist      
McAlester Regional Health Center, Robert Savely, PharmD, BCPS, Staff Pharmacist
McBride Orthopedic Hospital, Oklahoma City, Jeremy Podany, RN, BSN, Director, Acute Care
Mercy Hospital Ada, Deborah Forster, RHIA, Director of Health Information and Behavioral Health
Mercy Hospital Ardmore, Heather Chatham, Director of Imaging Services
Mercy Hospital Oklahoma City, Terri-Anne Bone, RN, MBA-HC, CPHQ, Chief Quality Officer,
Mercy-West Community
Mercy Hospital Tishomingo, Bobby Priddy, BSN, RN, BSRC, RRT, Registered Nurse, Emergency
Department
Norman Regional Health System, Juliet Wallace, PharmD, Pharmacy Clinical Specialist
Northeastern Health System, Tahlequah, Cori Beights, Director of Clinic Operations
Okeene Municipal Hospital, Jana Johannesmeyer, RN, Medical Surgery Nurse, ER Nurse
OU Medical Center, Oklahoma City, Kayla Garver, PT, DPT, Physical Therapist
OU Medical Center Edmond, Stephanie Hopkins, RN, Emergency Room RN
Perry Memorial Hospital, Chrystal Pace, RN, Registered Nurse
Purcell Municipal Hospital, Cinda Keller, Precertification Specialist
SSM Health St. Anthony Hospital-Oklahoma City, Shawn Morrison, Director, Oncology Clinic
SSM Health St. Anthony Hospital-Shawnee, Melissa Pack, Case Management Assistant
St. John Owasso, Kathy Bryson, RN, BSN, CHPN, Regional House Supervisor, Nursing
Administration
St. Mary's Regional Medical Center, Enid, Weslie White, RN­­, Director of Oncology Services, Cancer
Center
Stillwater Medical Center, Brandi Bishop, RN,       Lead RN Health Coach, Population Health
The Children's Hospital at OU Medical Center, Oklahoma City, Melissa Rice, BSN, RN, RN
Supervisor, Pediatric Surgery
Tulsa Spine & Specialty Hospital, Tracy Whittington, Patient Access Representative
Wagoner Community Hospital, Beverly Scroggins, Administrative Assistant to CEO/Central
Scheduler
(ALL)
 The Oklahoma Hospital Association is the voice of hospitals in Oklahoma. Established in 1919, the OHA represents more than 130 hospitals and health systems across the state. OHA's primary objective is to promote the health and welfare of all Oklahomans by leading and assisting its member organizations in providing high quality, safe and valued health care services to their communities.
Back to News