12/17/2018
Oklahoma Hospital Volunteers Present Awards
OKLAHOMA CITY, OK – The Hospital Volunteers of Oklahoma recently recognized 17 volunteers from across the state as 2018 Volunteers with Spirit. The awards were presented during the Hospital Volunteer Day meeting at the Oklahoma Hospital Association Annual Convention on Dec. 5.
The award was given to hospital volunteers who exemplify the spirit of service and have a passion for the work they do for their organizations. Volunteers with Spirit winners bring something special to their local hospital auxiliaries by standing out from the rest in what they do, how they do it or why they do it. Each volunteer auxiliary at Oklahoma hospitals was given the opportunity to choose one person for the award.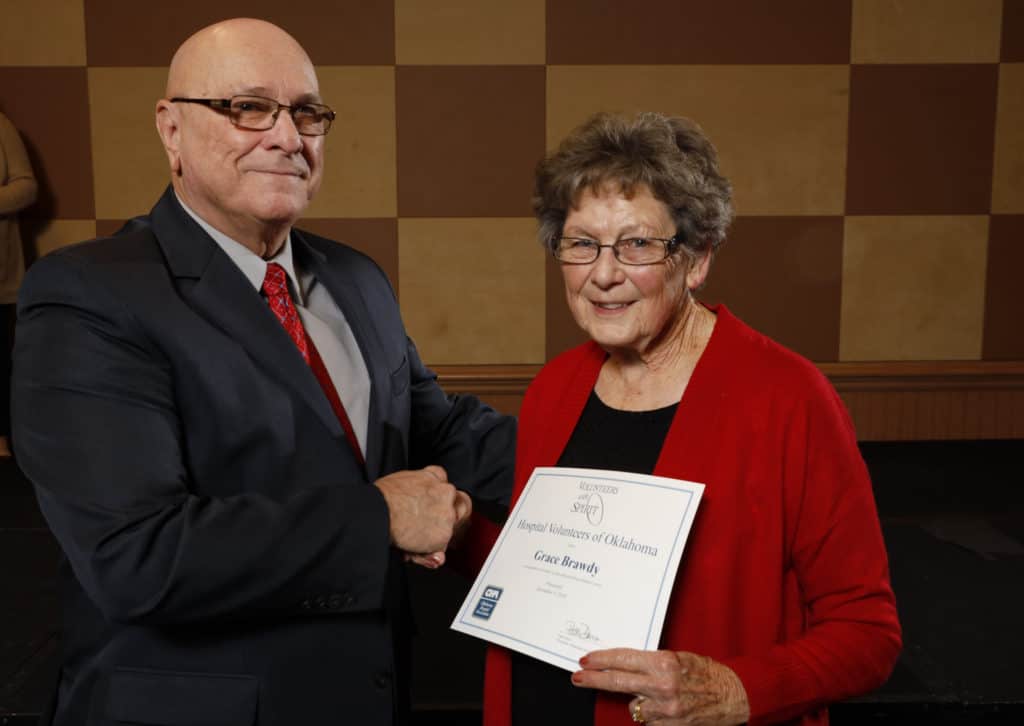 Recognized as 2018 Volunteers with Spirit were:
Grace Brawdy, Duncan Regional Hospital
Elisabeth Cates, Mercy Hospital Tishomingo
Jean Collins, McAlester Regional Health Center
Derald Fendley, Norman Regional Health System
Darlene Harwood, St. John Owasso
Carolyn Hassan, Integris Deaconess, Oklahoma City
Vanessa Hunholz, Integris Baptist Medical Center, Oklahoma City
Morna Martinez, Integris Canadian Valley Hospital, Yukon
Geniva Murray, St. John Broken Arrow
Fern Patterson, St. John Sapulpa
Wanda Privett, Mercy Hospital Ada
Grayson Roulston, Mercy Hospital Oklahoma City
Clarice Stevenson, Mercy Hospital Ardmore
Marilyn Salyer, Integris Grove Hospital
Carolyn Taylor, St. John Medical Center, Tulsa
Sandra Terrell, Northeastern Health System, Tahlequah
Nancy Wilson, Integris Southwest Medical Center, Oklahoma City
(ALL)
The Oklahoma Hospital Association is the voice of hospitals in Oklahoma. Established in 1919, the OHA represents more than 130 hospitals and health systems across the state. OHA's primary objective is to promote the health and welfare of all Oklahomans by leading and assisting its member organizations in providing high quality, safe and valued health care services to their communities.
Back to News