04/06/2020
Addiction vs. Substance Use Disorder
In my first blog, I had mentioned that the concept of "addiction" often carries a negative connotation.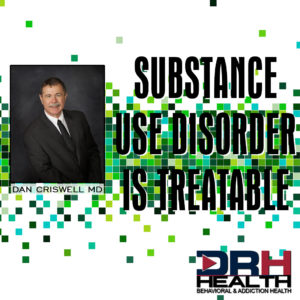 Some people regard addiction as a moral failing instead of a chronic brain disease.  So in an effort to help de-stigmatize addiction, the medical definition has been changed to "substance use disorder."  And substance can refer to several things: alcohol, opiates, methamphetamine, benzodiazepines, marijuana and any of the other substances that are mood or mind altering.  It is important to recognize substance use disorders as treatable diseases – that with the proper treatment elements, all of these conditions can be successfully treated and the person with the substance use disorder can regain a life – a life with purpose and joy and freedom.  The goal of treatment is recovery.  And in the next blog we will discuss what recovery is.
The Duncan Regional Hospital Behavioral and Addiction Health clinic is here to help anyone who is caught in the throes of addiction.  We provide comprehensive outpatient treatment that addresses those elements that have been disordered due to addiction.  If you or someone you love is willing to accept treatment, we are here to provide.
Dan Criswell, MD
Duncan Behavioral Health and Addiction
Back to News